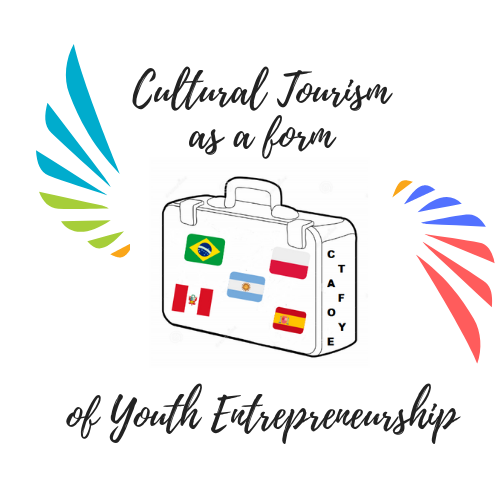 We are in the middle of implementing the project Cultural Tourism as a Form of Youth Entrepreneurship! Our partners are: Spain, Brazil, Argentina and Peru!
The general objective of the project is to transfer to youth workers innovative training methodologies in order to improve guidance and counselling, vocational and non-formal training in EU and Latin America for youngsters and young NEETs (people not in employment, education or training) who are facing more obstacles to enter on the labour market and prior to this, are more vulnerable to be at risk of social exclusion. The project aims at fostering entrepreneurship education, in the field of cultural tourism with the emphasis placed on using historical and cultural resources of partners from Europe and Latin America while setting up youth enterprises.
Youth workers will acquire specific knowledge about cultural-touristic enterprises through various non-formal learning methods, in particular, how to plan and implement new and innovative trainings, relational support meetings, workshops and leisure time activities for youngsters in order to strengthen entrepreneurial skills. This project will develop youth workers' set of technical, transversal and intercultural skills and competences which indirectly may open for the youngsters of partners' local community new job opportunities and improve their employability in the field of cultural-touristic enterprise. Creativity, entrepreneurship, teamwork and sense of initiative will be constantly developed thus promoting a real and deep personal and professional growth of youth workers and other project participants.
The project Cultural Tourism as a form of youth entrepreneurship will contribute to the implementation of "Europe 2020" strategy, working specifically in the fight against poverty and social exclusion of youth. Project partners will collaboratively prepare a capacity building programme which will be passed on to other youth workers in their countries so as to increase their organizations social impact and visibility. CTAFOYE aims to promote the idea of peer learning between youth workers of different continents based on creativity, active participation and intercultural learning.